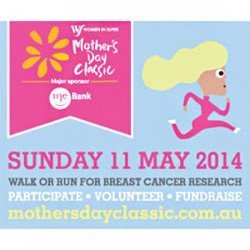 Mother's Day Classic
The Duncraig Veterinary Hospital supports a variety of charities.
The Veterinarians and Veterinary Nurses are participating in the 2014 Mothers Day Classic walk this year, to help raise awareness and funds for the National Breast Cancer Foundation.
It is happening on Sunday 11th May 2014 at Langley Park.
We would love to see you come in and give us some encouragement, or a small donation for this worthy cause (or come down and cheer us on!!)
If you would like to see any further information please go to this link
www.mothersdayclassic.com.au